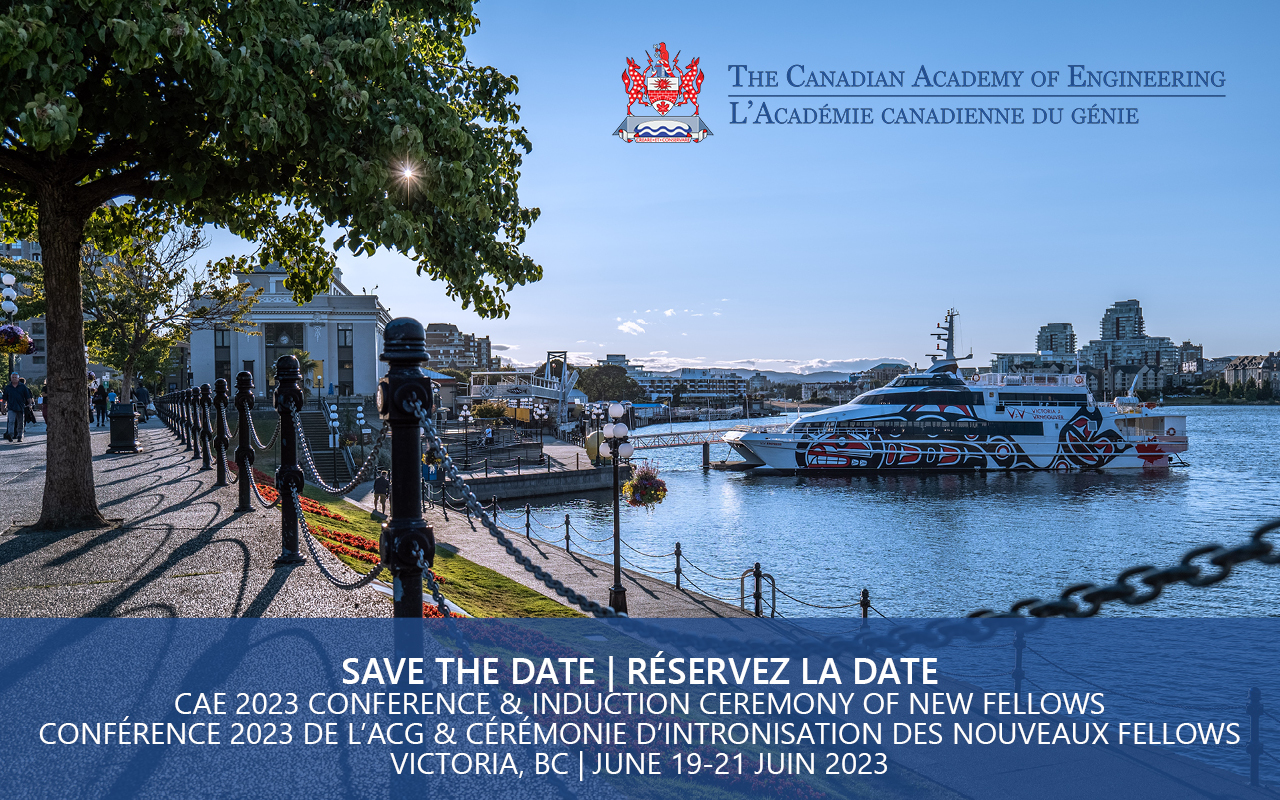 Join us in Victoria, British Columbia at the beautiful Inn at Laurel Point for the 2023 Conference and Induction Ceremony of our new Fellows from June 19 to 21, 2023.

Fellows of the Academy have been collaborating on a number of programs on topics critical to Canada and the world. Our annual conference, now expanded to a two-day format, provides a great opportunity to reconnect with old friends, meet the 2023 new Fellows and engage in interesting dialogue.
Program Summary
The conference starts with a cocktail reception on Monday June 19 followed by two full days of panels and presentations on CAE projects including:
Ultra-low Energy Resilient Buildings
The Energy Transition and the Future of Energy Engineering
Hydrogen - Challenges and Opportunities
Future Networks - A vision for Canadian communications 2030-2060
Infrastructure Project Management - Can we still deliver on-time and on-budget?
The dinner and induction ceremony will be held on Tuesday June 20.
We hope to see you in Victoria!
Register to Attend
Modify / Add to an existing registration
Location
680 Montreal Street
Victoria, BC V8V 1Z8
250-386-8721
Registration
Full Registration – Includes:
the Welcome reception (June 19), all sessions, breakfast, and luncheon (June 20 and 21) and the Gala and Induction Dinner (June 20).
CAE Fellows – Full Registration - $400.00
Non-members – Full Registration - $475.00
One day registration includes, sessions, breakfast and lunch of the date registered for (June 20 or 21). The Gala and Induction dinner is not included with this registration.
CAE Fellow – Day 1 registration (June 20) $135.00
CAE Fellow – Day 2 (June 21) $135.00
Non-member – Day 1 registration (June 20) $175.00
Non-member – Day 2 registration (June 21) $175.00
Gala and Induction Dinner (June 20)
$155.00 per person
Contact Information
Christine Helm, Event Manager
613-235-9056
events@cae-acg.ca