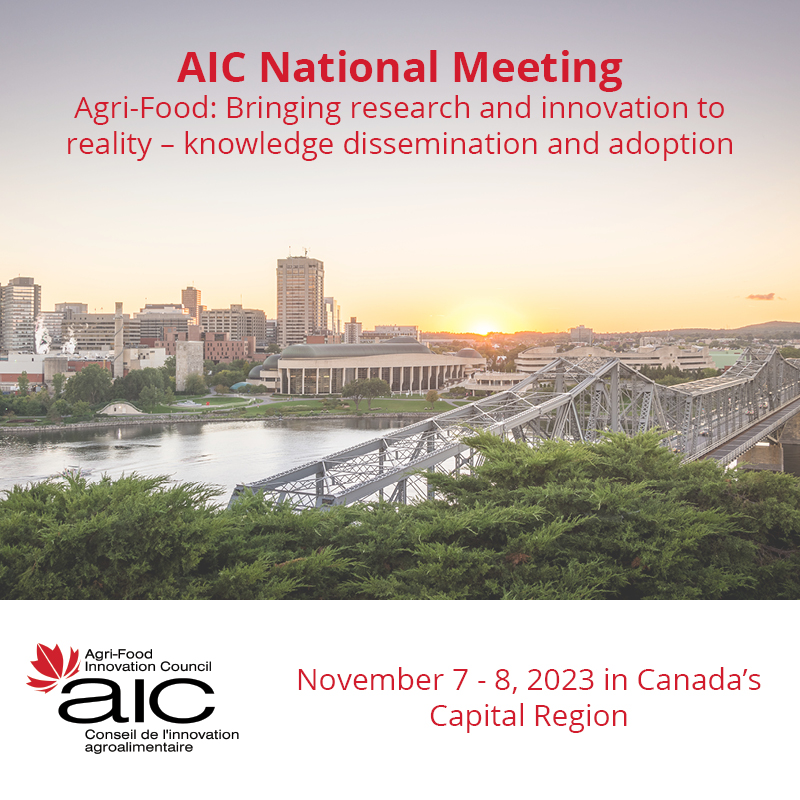 Join AIC in Ottawa on November 7-8, 2023 at our Fall National Meeting "Agri-Food: Bringing research and innovation to reality – knowledge dissemination and adoption".
The Agri-Food Innovation Council (AIC) National Meeting is an occasion for leaders in research and innovation in the agri-food sectors and related stakeholders to gather and share information on the latest programs and innovation.
Presentations will focus on:
Knowledge dissemination (best practices, extension services, etc.)
Upscaling new technologies (such as going from new technology to mass distribution)
Financial mechanisms to support adoption (funding programs, financial tools, etc.)
We look forward to meeting you in Canada's Capital Region this Fall.
Register
Returning Registrant
Preliminary Program
Click here to download our program
Location

1170 Chemin d'Aylmer
Gatineau, QC J9H 7L3
819-778-0000
Sponsorship Opportunities
Registration
Includes
All sessions breakfast, lunch, and breaks and Networking Reception on November 7
All sessions, breakfast, lunch and breaks on November 8
AIC Members
Complete Registration rate $500
Non-Member

Complete Registration rate $600
For More Information
Christine Helm
chelm@aic.ca
613-232-9459