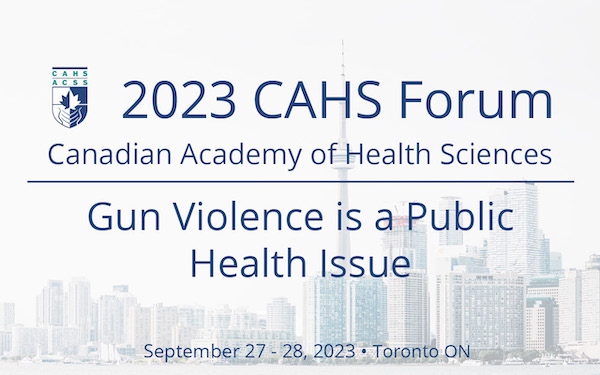 Join us in Toronto September 27 and 28 for our 2023 Forum.
This year's event, entitled
,
Gun Violence is a Public Health Issue
,
led
by
Dr. Najma Ahmed, MD PhD FRCSC FACS
, Surgeon-in-Chief, St. Michael's Hospital - Unity Health and Vice-Chair of Education, Professor of Surgery, University of Toronto
, Dr. Philip B. Berger, O.C. O.ONT MD FCFP FRCPC (Hon) FCAHS
, St. Michael's Hospital - Unity Health and Associate Professor, Temerty Faculty of Medicine, University of Toronto, and
Dr. Jacinthe Lampron, MD MPHE FRCSC FACS
, Medical Director of Trauma Program, General Surgery, The Ottawa Hospital.
Our panel of experts will look at a multi-pronged including investments to address the social determinants of health and, efforts to end the proliferation of guns. The event will assist health care providers obtain informed and meaningful conversations with patients, families and communities affected by gun violence. Participants will learn about risk reduction strategies in the context of their own practice as well as the necessity of evidence-informed advocacy. The content will be presented in a thought-proving manner that will stimulate further scholarly work, development of programming for learners and scientific enquiry.
Register to Attend
Modify existing registration
Location
75 Lower Simcoe Street
Toronto ON
M5J 3A6
REGISTRATION
CAHS FELLOWS – Full Registration
(Includes, all sessions / breakfast and lunch on September 27 and 28. The Gala dinner is not included with this registration. One or more tickets can be purchased at the cost of $175.00 each)
$400.00 (Early Bird pricing to June 15, 2023)
$495.00 as of June 16, 2023
Non-members – Full Registration
(Includes, all sessions / breakfast and lunch on September 27 and 28. The Gala dinner is not included with this registration. One or more tickets can be purchased at the cost of $175.00 each)
$500.00 (Early Bird pricing to June 15, 2023)
$595.00 as of June 16, 2023
Inters Registration - $275.00
(Includes, all sessions / breakfast and lunch on September 27 and 28. The Gala dinner is not included with this registration.)
Gala Dinner - September 27
$175.00 per person
Contact Information
Christine Helm, Event Manager
613-416-2247
chelm@cahs-acss.ca